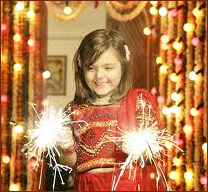 Diwali is the most celebrated and the biggest gift-giving festival in India. Kids are extremely excited about the occasion as they are indulged with large number of goodies and gifts by their parents, grandparents and numerous uncles and aunts. However, it is seen that kids are quite apprehensive over the fact that their enthusiasm may get marred by repeat or boring gifts or gifts which might be just useless for them. Elders too appear extremely confused as to what could be the most wonderful Diwali gift for kids. Of course they don't want to be rated as the person who gives the most boring or same Diwali gift every year. To help you get your name in the good books of the kids, given here are some handy tips on selecting Diwali Gifts for kids and some amazing Diwali Gift ideas for children.
Handy Tips
Keep in mind the age and sex of the child.
Keep in mind the nature and interest of the child.
Gifts that exude the spirit of the festival are more appreciated on Diwali.
Avoid repeating the gift idea even if it did wonders last time.
Give a gift that the kid may use just when he receives it. It should not be something that the child may use next season or next year.
Always try and give a personal gift to the kid.
If you are not able to meet personally, send gift online and in time for Diwali.
Accompany your gift with chocolates and some other goodies to impress the child and win that million dollar smile.
Diwali Gift Ideas for Kids
Here are some trendy Diwali Gift ideas for kids to help you brighten up your little friend's Diwali.
Fire Crackers
On the occasion of Diwali, fire-crackers are very much appreciated as a gift especially by little boys. But make sure that the intensity of the crackers is not high and they are good quality. Insist kids to use the crackers with caution and under parental guidance.
DVD/Videos
Educational, music or children's movie DVDs and Videos are another welcome Diwali Gift idea for children. Keep in mind the child's area of interest before selecting the video.
Video Games / Game CDs
Children are crazy about video games these days. You may give them a nice video game or game CDs as a gift for Diwali. Please make sure that the game CDs are good for children and are not violent in nature.
Chocolate Hampers
If you are not sure about the kids interest go in for chocolate hamper containing loads of chocolates, cookies, cakes and toffees. Buy popular brands and variety of flavors if you are not sure of child's taste.
Books
Books may also be presented as a Diwali gift to children. You may gift dictionary, atlas, children's encyclopedia or kids magazine subscription to a school going kid.
Toys
Toys and games especially the electronic ones are very much liked by children. For girls you may buy dolls or teddy bears. You may also gift them hanging bells this will make a nice and traditional Diwali gift.