We Deliver Worldwide. FREE Shipping in India.

Diwali Gift Ideas for Sisters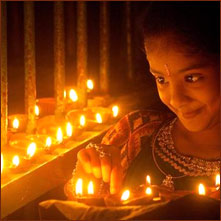 Diwali is the biggest gift giving occasion in India. Though Diwali gifts are exchanged with lot many friends and dear ones, there exists a strong tradition to send Diwali Gifts to married sister and her family. The custom has been carried out since ages and retains importance even in present times. First Diwali of a sister after her marriage is considered especially important and in several communities it is considered must to send traditional Diwali Gifts at a sister's in-laws house.

While selecting Diwali Gifts for married sisters extreme care should be taken. If you are low on budget give something small, but ensure that the gift is of good quality. This is extremely important as Diwali Gifts are exchanged to bring sweetness in relationships and strengthen the bonds of love. Therefore the gift must not in any way bring any negativity in relationships. Besides, the gift should not be just for the sister. Since Diwali is the family occasion, ideal Diwali Gift would be one that could be shared and enjoyed by all in the family.

In case you are in fix to decide on a perfect Diwali Gift for your sister, here are some traditional and trendy Diwali gifts ideas for sisters just for you.

Mithais and Fruits Hamper
Mithais and Fruits Hamper are a traditional and most popular Diwali Gift for sisters and are still very much in vogue. These are available as attractive packaging making them a wonderful Diwali gifts. You may also gift a box of dry fruits or chocolates if you wish.

Household Gifts
For a just married girl, household gifts like kitchen gadgets, crockery, bed covers etc too make a wonderful Diwali Gift for daughters who is still in the process of setting her home.

Decorative
Diwali is the time for spring cleaning and renovation and hence decorative are extremely appreciated as a Diwali Gift. You may go in for show pieces, lamp shades, wall hangings, paintings, hanging bells, wall clocks etc depending on the space and decor in your sister's house. Diwali diyas, candles, bandhanwars etc can also be given.

jewellery
A gift of jewellery is traditional and much appreciated gift for sisters or daughters on any occasion. On Diwali you may go in for diamond, gold, pearl or silver jewelery items like necklace, earrings, bracelets or bangles depending on your budget and your sister's taste. Alternatively, you may go in for fashion jewellry which is a rage amongst women across the globe.

Sarees
A perfect Diwali Gift for sisters could be designer Saree teamed with tasteful jewelry. You may add fruits and sweets in the gift hamper which can be cherished by others in the family.